Regular price
$0.00 USD
Sale price
$26.40 USD
Unit price
per
Sale
Sold out
Shipping & Returns

We are always here to help.

Cancellation

We accept order cancellation before the product is shipped or produced. If the order is cancelled you will get full refund. We cannot cancel the order if the product is already shipped out.

Returns (if applicable)

We Are Pleased to Offer a Return or Exchange within 30 Days of Receiving Your Products On All Hair Extensions That Have Not Been Worn or Colored (Worn, Colored or Damaged Items Are Not Eligible for Return or Exchange).

Our packaging is clear and you can see the color without needing to open it. You can also purchase a color ring or a sample of the color.

Please keep the packaging and all original contents. When you first examine your hair extensions, and before you cut the security strings, please hold the hair extensions up to your own hair to check whether it blends well or not.

To be eligible for a return, your item must be unused and in the same condition that you received it. It must also be in the original packaging. To complete your return, we require a receipt or proof of purchase. Please ask our customer service to make sure you send the package to the right address.

We May charge a 5% to 50% restocking fees according to the status of the returned item.

Notes

Custom-order or personalised items do not have a right to 30 days refund.
If the return is caused by the consumer, consumer should be responsible for the shipping fee. The specific fee should be based on the express company you choose.
If due to our reasons, the goods received are damaged or not correct, the consumer is not required to bear the shipping fee for this reason. No restocking fee to be charged to the consumers for the return of a product.
Please putting a small paper noting your order number MN-#***** in the return package and make sure you will send to the right address.

Refunds (if applicable)

Once your return is received and inspected, we will email you a notification of receipt. We will also notify you of the approval or rejection of your refund. If you are approved, then your refund will be processed, and a credit will automatically be applied to your credit card or original method of payment, within a certain amount of days.

Exchange

Exchange Should Within the Return Period.
Email: goessom@gmail.com and inform us about your order id, replaced item.
Send back the item that need to be exchanged and email us the return information.
Exchanged item will be mailed out after we get the returned item and make sure they are in good condition.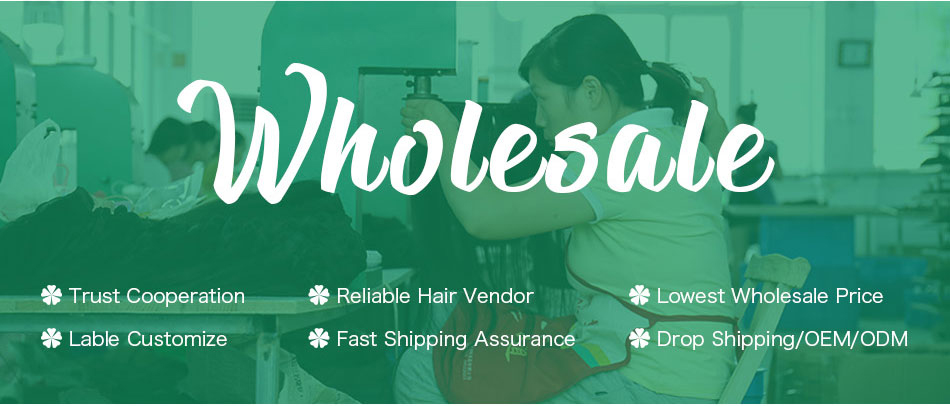 Reisika Worldwide is dream of giving people around the world the confidence. People need to feel beautiful inside and out. It is confidence that enables people to achieve any goal and make their dreams a reality. We believe in change, and we want to make that accessible to everyone.
---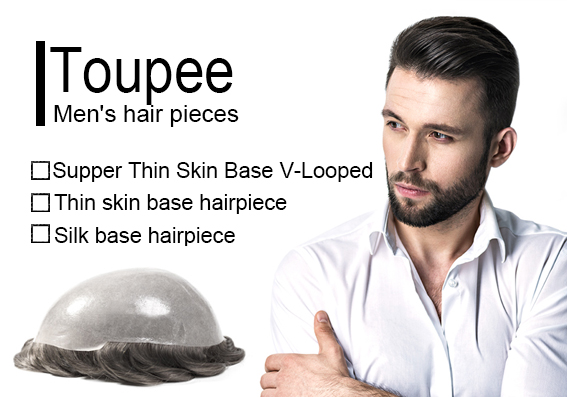 Forehead Topper Usage Instructions for Men's Hairline Toupee:
1. Before using the Men's Hairline Toupee Forehead Topper, ensure that your forehead is clean and free from any oils or lotions. This will help the topper adhere better to your skin.
2. Gently remove the Men's Hairline Toupee from its packaging, being careful not to damage the delicate adhesive surface.
3. Align the topper with your forehead, making sure it is centered and positioned as desired. The topper should cover the entire forehead area, blending seamlessly with your natural hairline.
4. Once you have found the perfect placement, firmly press the Men's Hairline Toupee Forehead Topper onto your forehead, starting from the center and moving outwards towards the edges. Smooth out any wrinkles or air bubbles that may have formed during application.
5. The Men's Hairline Toupee is designed to be long-lasting, providing a natural and undetectable hairline. However, if you feel the need to reposition or remove it, gently peel it off from one corner. Avoid pulling or tugging on the topper, as this may cause discomfort or damage to your skin.
6. After use, carefully remove the Men's Hairline Toupee Forehead Topper from your forehead. Gently peel it off, starting from one corner and moving towards the other. Dispose of the topper properly.
7. It is recommended to clean your forehead before and after using the Men's Hairline Toupee Forehead Topper to maintain proper hygiene. Use a mild cleanser or wipes to remove any residue from the adhesive.
8. Store the Men's Hairline Toupee Forehead Topper in its original packaging or in a clean, dry place to protect it from dust and dirt. Avoid exposing it to extreme temperatures or direct sunlight.
Note: The Men's Hairline Toupee Forehead Topper is specifically designed for men's hairlines and is intended for cosmetic purposes only. It should not be used on broken or irritated skin. If you experience any discomfort or skin irritation while using the topper, discontinue use and consult a dermatologist.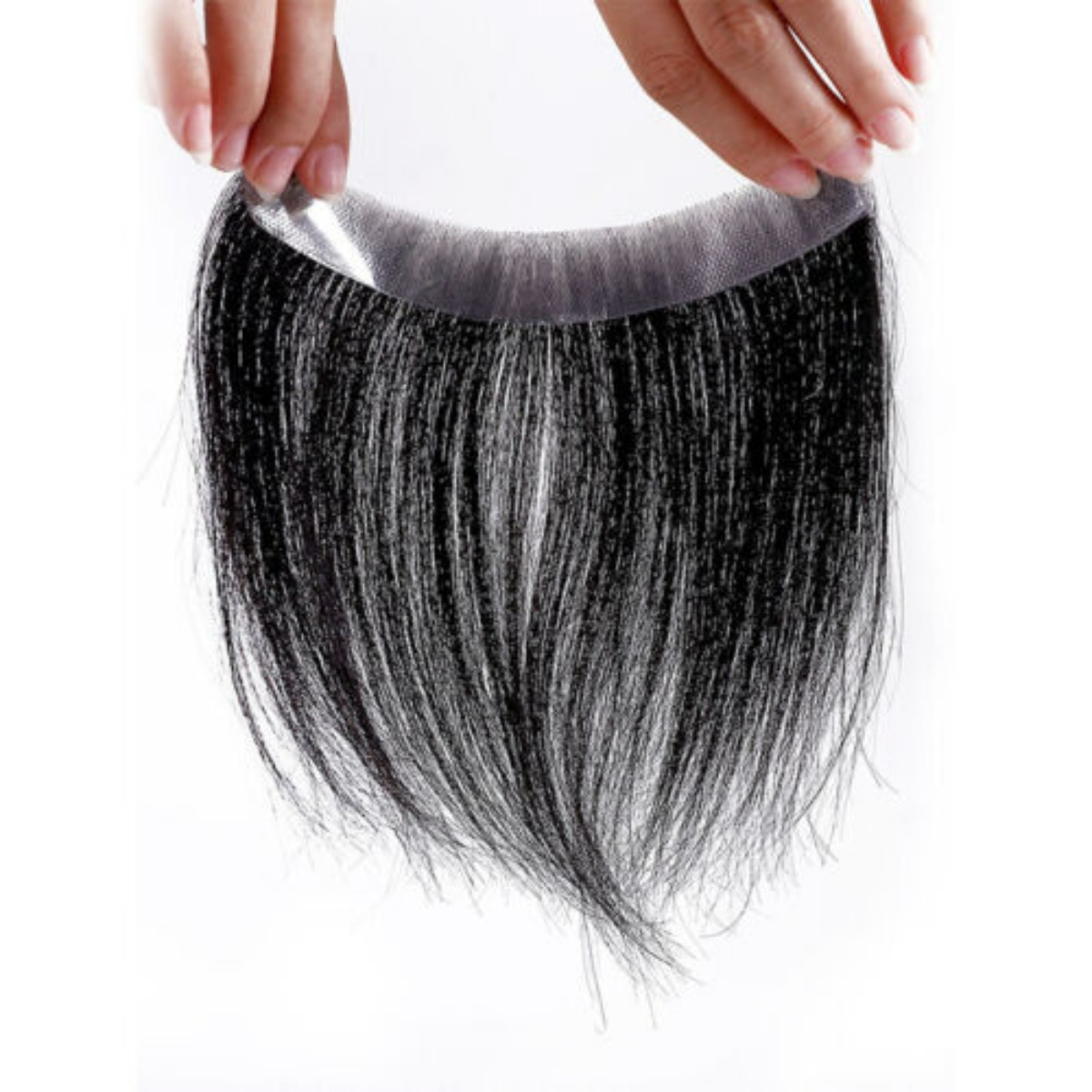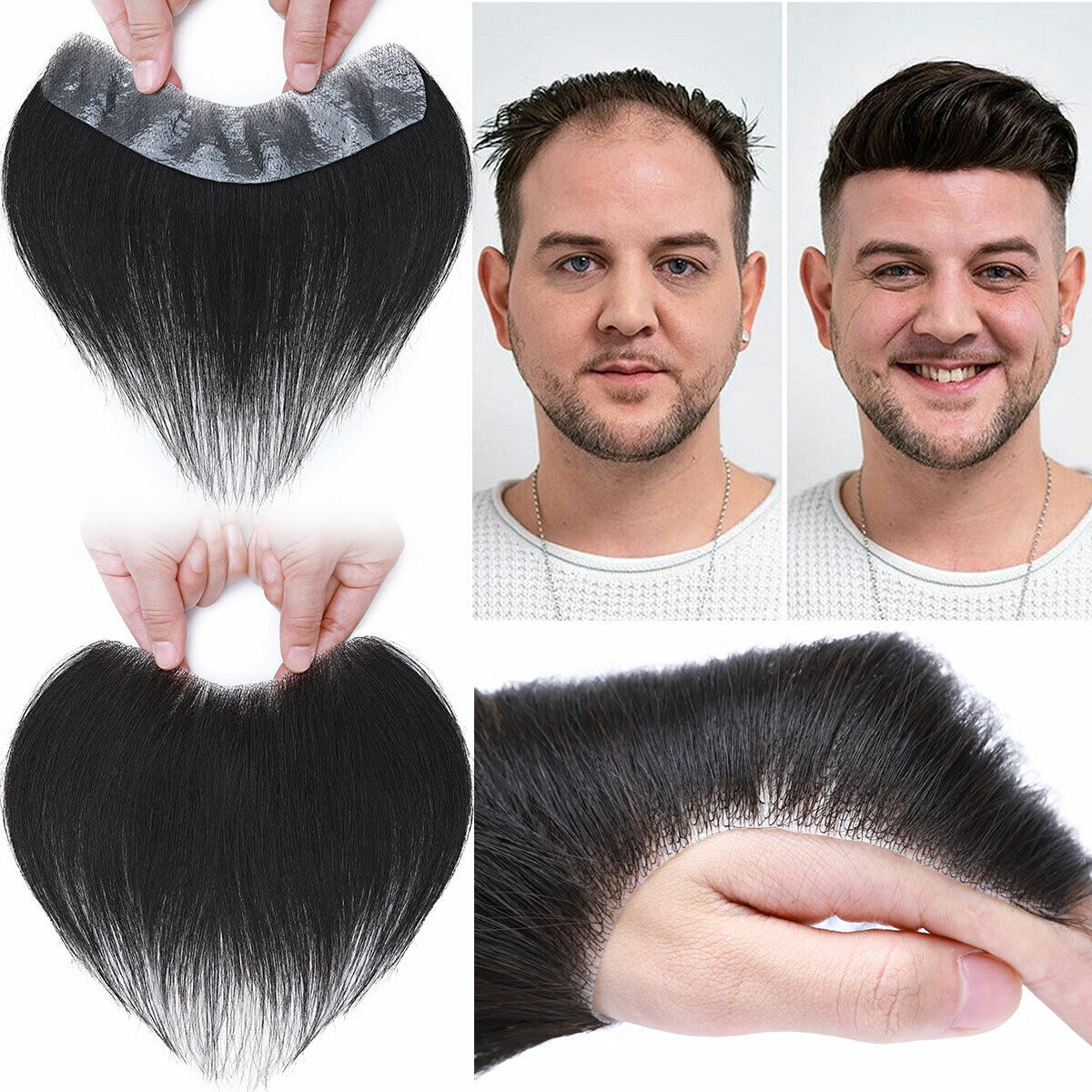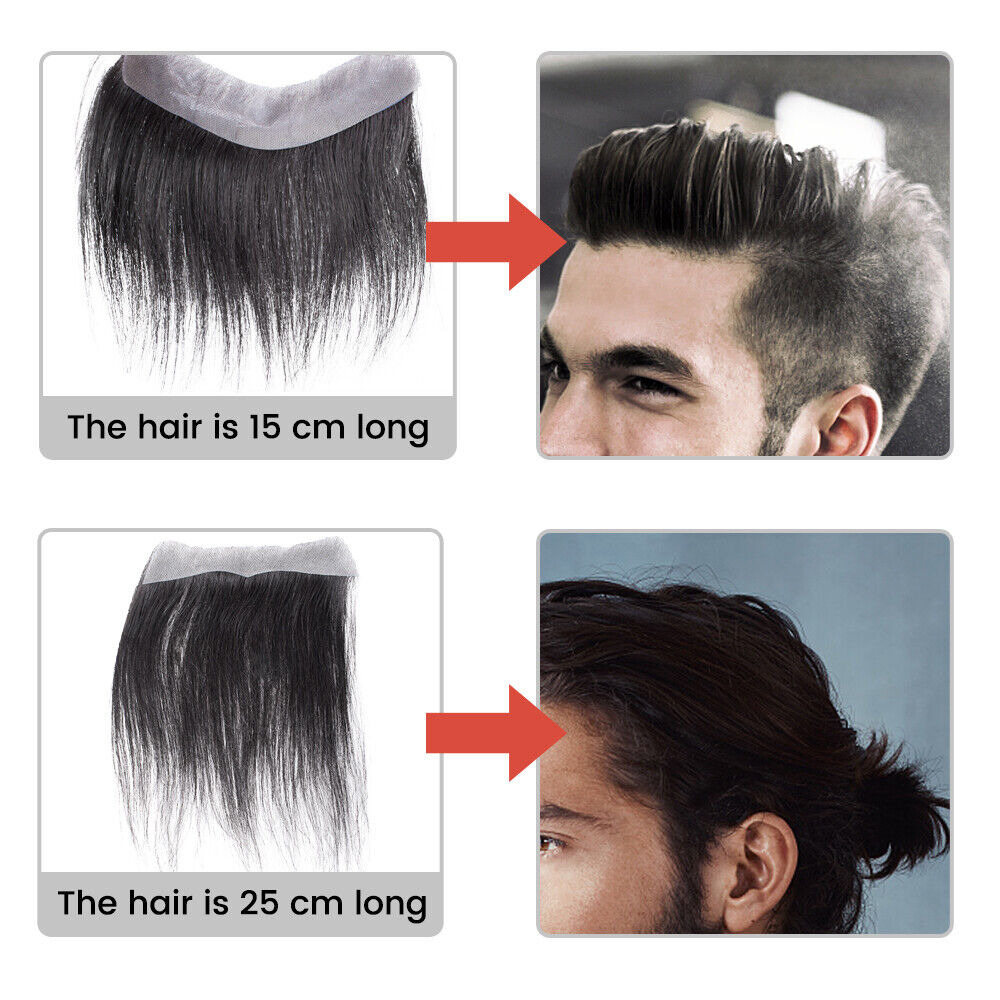 Notice Before Order:
About Style: Our remy human hair topper just like your own hair and can be styled, cutted, curled or straightened asdesired.

About Odour: Product may remain a bit chemical smelling after processing. If it does, soak it with fragrant conditioner for a while and the odour will disappear.

Add volume

-Conceal high hairline

-Cover the top crown white or thin hair

-Avoid hurting your own scalp from dying the hair usually

-Drive away your cares about hair loss

-Create a new hairstyle

Make Your New Hair Style

 

Make sure that your hairpiece are dry before you style them.

Use heating tools at a low temperature(not exceed 356℉/180℃)

Only the light color hair can be dye to darker color.

Use mild container and shampoo to maintain hair after styling.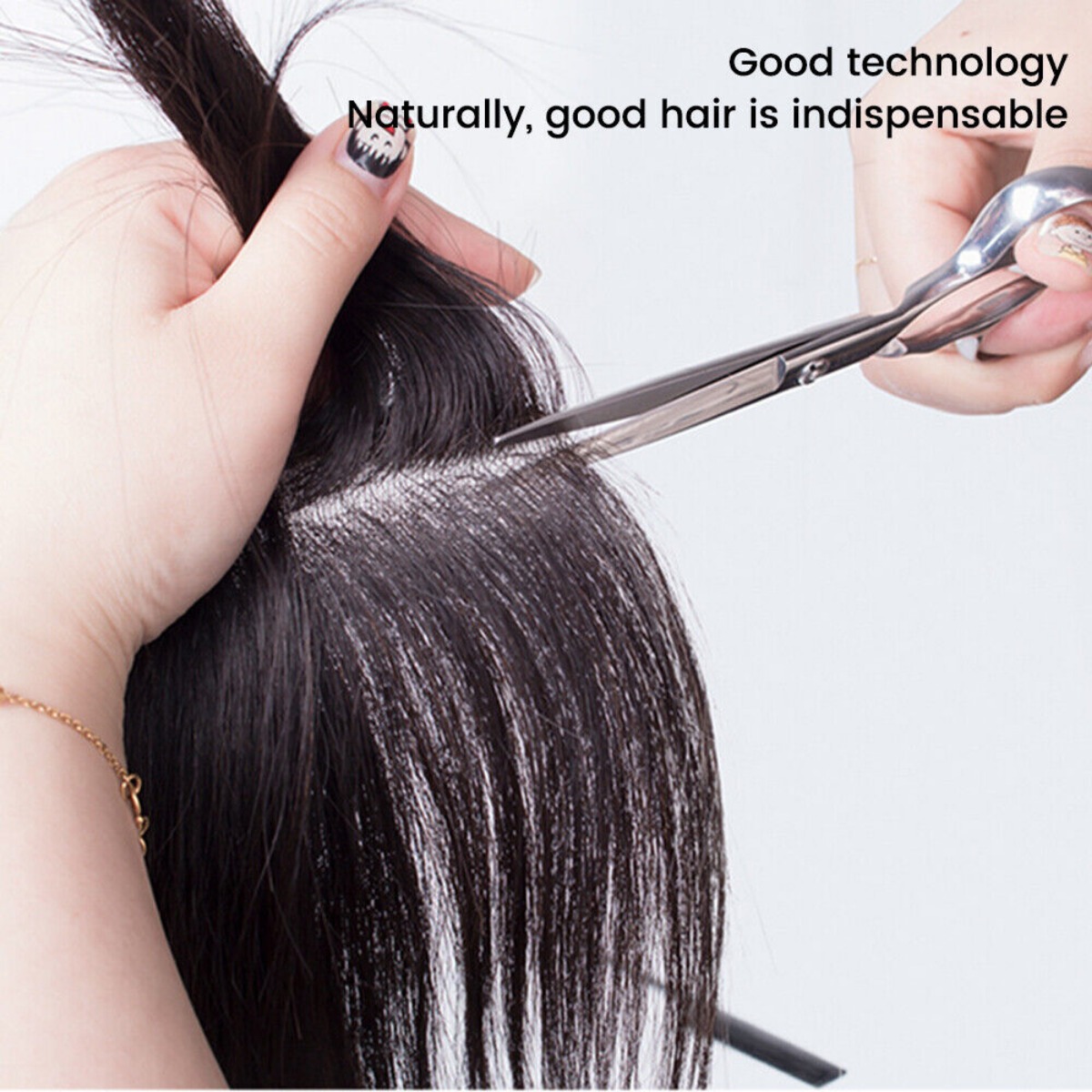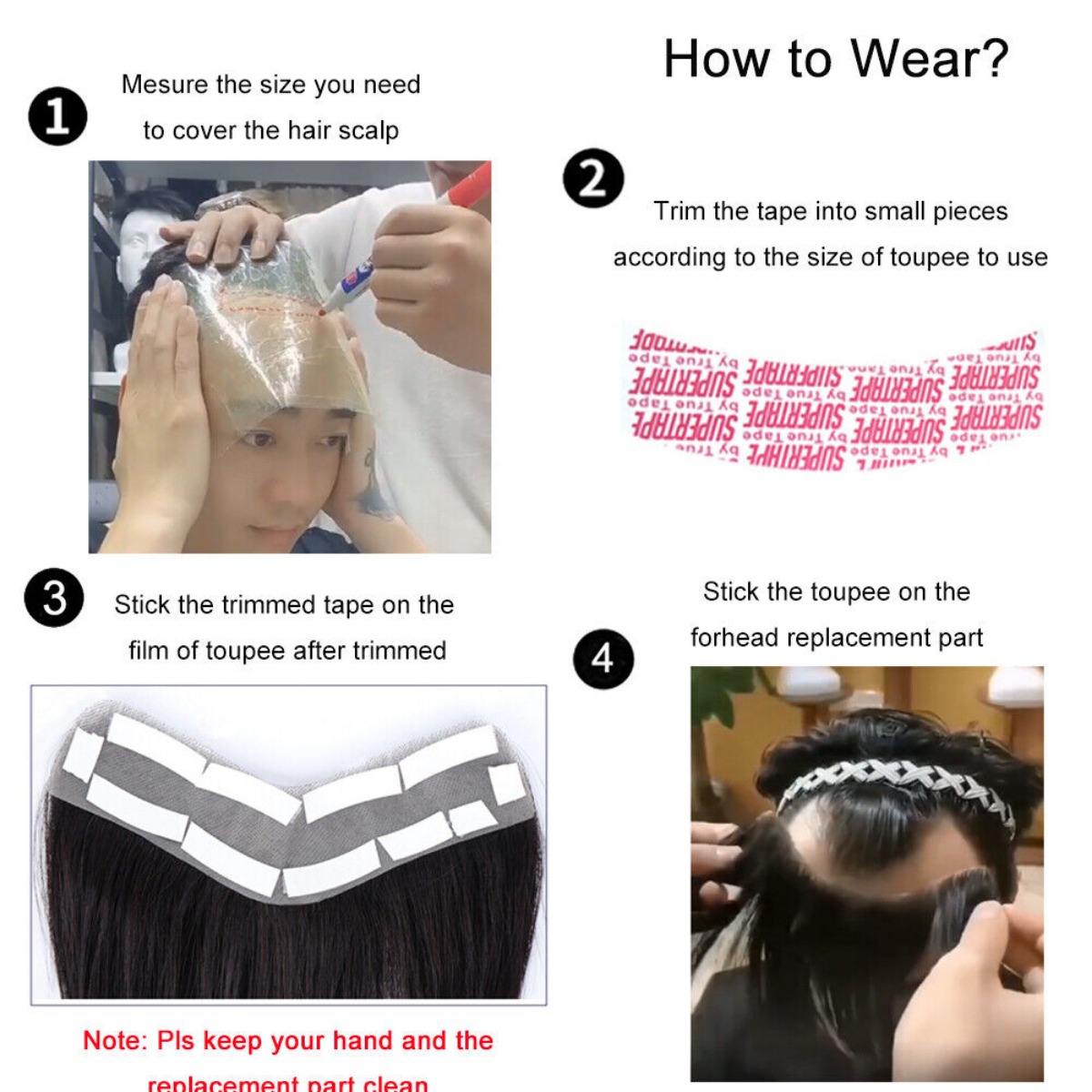 Our stock hair toupees for thinning hair are of the same quality as our custom range; the only difference is you don't have to wait.

With our stock hair pieces for men, you still have a wide range of choices in terms of base design and color.

If you need a non surgical hair replacement system now, we have you covered!

Packaging & Shipping for Hair Toupee:

Packaging:

We take great care in packaging our Hair Toupee to ensure it arrives in perfect condition. Each Hair Toupee is carefully placed in a protective box or bag to prevent any damage during transit. Additionally, we may use bubble wrap or foam padding to provide extra protection. Our packaging is discreet to maintain your privacy.

Shipping:

We offer worldwide shipping for our Hair Toupee. We work with reliable shipping carriers to ensure timely and secure delivery. The shipping options available may vary depending on your location. You can choose from standard or express shipping at checkout.

Once your order is processed, we will provide you with a tracking number so you can monitor the progress of your shipment. Please note that shipping times may vary depending on your location and any customs procedures that need to be followed.

We strive to ship your Hair Toupee as quickly as possible, usually within 1-2 business days from the date of order confirmation. However, please allow for additional processing time during busy periods or holidays.

If you have any specific shipping requirements or need assistance with tracking your order, please feel free to contact our customer service team. We are here to assist you and ensure a smooth shipping experience.

Please note that the above information is a general overview of our Packaging & Shipping process for Hair Toupee. For specific details regarding your order, please refer to the shipping information provided at checkout or contact our customer service team.

Title: OEM Service for Men's Hair Products

Introduction:


At Reisika Hair Products Co.,Ltd , we understand the importance of having a stylish and well-groomed appearance for men. That's why we offer exceptional OEM services for men's hair products. With our extensive expertise and state-of-the-art facilities, we can help you create your own private label hair products tailored specifically for men. Whether you are a salon owner, a barbershop, or a distributor, our OEM service can provide you with high-quality products that meet your unique requirements.

 

Our OEM Service:

1. Custom Formulation:
Our experienced team of professionals will work closely with you to develop custom formulations for men's hair products. From shampoos and conditioners to styling gels and pomades, we can create a wide range of products that cater to different hair types and styling needs.

2. Branding and Packaging:
We understand the importance of branding and packaging in the competitive market. Our OEM service allows you to personalize the packaging design, logo, and labeling to align with your brand identity. Our designers will collaborate with you to create eye-catching and distinctive packaging that will make your products stand out on the shelves.

3. Quality Assurance:
We prioritize quality and adhere to strict manufacturing standards. Our facilities are equipped with advanced technology and follow Good Manufacturing Practices (GMP) to ensure the highest quality of products. Our dedicated quality control team conducts rigorous testing at every stage of production to guarantee that your products meet the highest standards.

4. Flexible Order Quantities:
Whether you require a small batch or a large-scale production, our OEM service can accommodate your needs. We offer flexible order quantities, allowing you to start with a smaller initial order and scale up as your business grows.

5. Timely Delivery:
We understand the importance of timely delivery to meet market demands. Our efficient supply chain management ensures that your orders are processed and delivered promptly, allowing you to maintain a steady supply of products to meet customer demands.


With our comprehensive OEM service for men's hair products, you can establish your own brand and offer high-quality grooming solutions to your customers. Partner with Your Company  to benefit from our expertise, exceptional product quality, and efficient service. Contact us today to discuss your requirements and explore the endless possibilities of creating your own line of men's hair products.

 

Here are the FAQs about Hair Toupee:

What is a Hair Toupee? A Hair Toupee is a hairpiece used to cover areas of hair loss on the scalp. It is typically made of real human hair or synthetic fibers and is designed to blend in with your natural hair.

Who is Hair Toupee suitable for? Hair Toupee is suitable for anyone experiencing hair thinning or hair loss. It can be used by both men and women of all ages to enhance the appearance of their hair.

How often should I replace my Hair Toupee? The lifespan of a Hair Toupee depends on individual usage and care. Typically, it can last anywhere from 6 months to 1 year. After that, you may need to replace it with a new Hair Toupee to maintain optimal results.

Does a Hair Toupee require special care? A Hair Toupee requires care similar to natural hair. You can use gentle shampoo and conditioner to clean and nourish the Hair Toupee. Additionally, regular brushing and avoiding excessive pulling are important factors in maintaining the appearance of the Hair Toupee.

Can a Hair Toupee be customized? Yes, Hair Toupee can be customized according to individual needs. You can choose different lengths, colors, and styles to ensure the Hair Toupee matches your natural hair.

Will a Hair Toupee damage the scalp? A Hair Toupee will not damage the scalp, but it is important to ensure that the scalp is clean and healthy before using it. If you have any scalp issues or a history of allergies, it is advisable to consult a professional before using a Hair Toupee.

Can a Hair Toupee be used while swimming or exercising? Yes, a Hair Toupee can be used while swimming or exercising, but it is recommended to secure it with transparent tape or adhesive before getting into the water or engaging in vigorous activities to prevent it from coming off.

Can a Hair Toupee be blended with natural hair? Yes, a Hair Toupee can be blended with natural hair for a more seamless look. You can attach the Hair Toupee to the areas of hair loss on the scalp and then blend your natural hair with it to achieve a natural appearance.

Please note that these are just some common FAQs and the specific questions and answers may vary depending on individual needs and circumstances. If you have more questions about Hair Toupee, it is recommended to consult a professional or supplier for more accurate answers.
View full details